PNM Group Adds Another High-Scoring Review to Their Clutch Collection
Reviews and feedback are some of the most powerful marketing tools on the internet. They're trusted more than anything an in-house marketing budget can produce. So it only made sense for us to create a vendor profile on the B2B platform Clutch to begin collecting reviews.
We're happy to report that all our hard work ensuring that our clients leave us happier than when they came has largely borne fruit. Currently, PNM Group enjoys a relatively high average on our review score, which was capped with this feedback from one of our latest projects.
This is the story of that engagement and the effect it's continuing to have on our growth.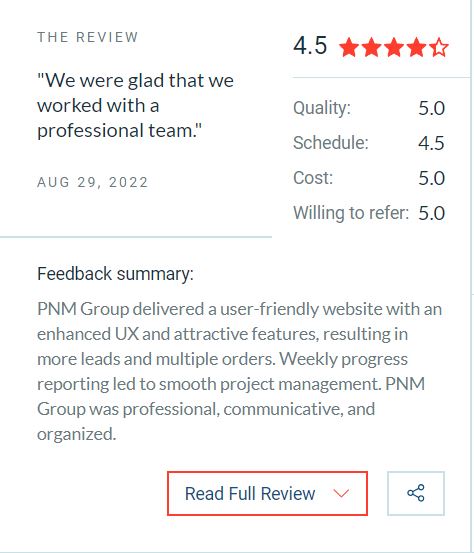 The company we were working with for this project was a digital marketing firm that needed a reliable partner to develop its website. They found our team after conducting a thorough online search effort. We provided them with a comprehensive step-by-step outline of our development process and they gave us the project.
We can't go into too much detail about what we did but it was a fairly straightforward process that judging from our score, was a successful one. Those interested in getting more information about the engagement are more than welcome to read the full review on our Clutch profile.
This review has had a number of interesting developments attached to it since its publication. One of the stand-outs has to be our inclusion on the top 100 WordPress developers in Brampton list on The Manifest.
They are a B2B resource platform that creates ranking of top-perfomers in various industries in an effort to gain attention from client companies. This is a big step in the right direction especially for a relatively young team like ours.
Our inclusion in this list makes it easier for potential clients to discover our team and services. It also helps establish the quality of our services. We think it will lead to many new opportunities for our team moving forward.
For those who aren't familiar with us, PNM Group is Toronto's leading Creative Agency Specializing in Web Design & Development, Mobile App Development, SEO, Digital Marketing, IDX/MLS, E-com, and Back Office Support.
Learn more about our team and services by visiting our website today. Feel free to contact us at your earliest convenience. Our team will respond to your inquiries as soon as they can. We look for ward to working you on your next project soon.